Jeangu Macrooy
Back to overview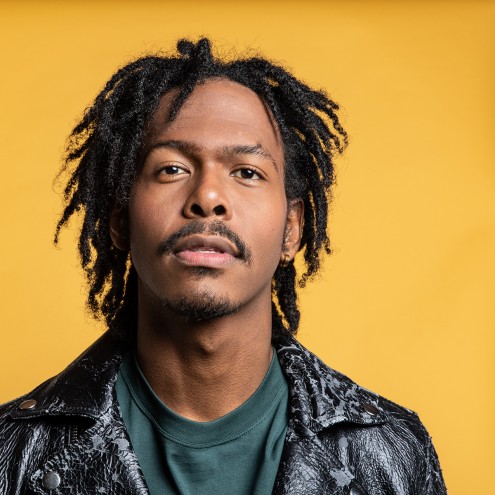 BIOGRAPHY
Jeangu Macrooy (pronounced as zjangú makrooi) was born and raised in the tropical warmth of Paramaribo, Suriname. At the age of thirteen he got his first guitar, and two years later he started writing and performing with his twin brother Xillan. In 2014 Jeangu decided to continue his musical career on the other side of the ocean, in the Netherlands. A musical collaboration with producer Perquisite took off and Jeangu was signed to the former's label Unexpected Records.
In April 2016 Jeangu's debut EP 'Brave Enough' was released. Jeangu was named 'Serious Talent' by 3FM radio and played his first single 'Gold' on Dutch national talk show 'De Wereld Draait Door', where he has become a frequent guest ever since. That autumn Jeangu took part in the 'Popronde' - a traveling music festival throughout the Netherlands - and performed as support act for artists such as Blaudzun, Bernhoft and Selah Sue, resulting in a total of 120 shows in just twelve months. The new year begun with a performance at Dutch showcase festival Noorderslag and a nomination for the Edison Pop Award in the category 'Best New Artist.'
Jeangu's debut album 'High On You' (2017), on which he collaborated with Perquisite again, is more energetic and danceable than its predecessor. In general the focus has shifted to a rawer and more soulful sound, which is emphasized by the prominent role of the brass section on the album. The common thread throughout the record however, is still Jeangu's unique vocal capacity, that hypnotises in the low range and moves the listener in the high range. 'High On You' was nominated for the Edison Pop Award 'Best Album', and received critical acclaim from the press. Algemeen Dagblad gave the album 4 out of 5 stars and wrote: ''High On You" might become the best Dutch debut album of 2017.' The release of the album was celebrated with two almost fully sold out club tours throughout the Netherlands. Moreover, Jeangu played an abundance of festivals with his band, including North Sea Jazz and Lowlands.
In December, for the first time since his departure to the Netherlands, Jeangu went back to Suriname. Single 'High On You' had been on the number one chart position for seven weeks straight in his native country and he got to play in Paramaribo with his band for an exhilarated audience. When he got back to The Netherlands, Jeangu performed at major Dutch showcase festival Eurosonic, followed by a performance on TV production 'The Passion', for which Jeangu embodied the roll of Judas, viewed by 3.5 million people. Before going on a new series of festival shows during the summer of 2018 with his band, Jeangu embarked on a solo tour along eight extraordinary churches in The Netherlands. On February 7th 2019, Jeangu Macrooy presented his second album 'Horizon', celebrated with his biggest show so far, in a sold out grand hall of Paradiso, Amsterdam.
Website: jeangumacrooy.com