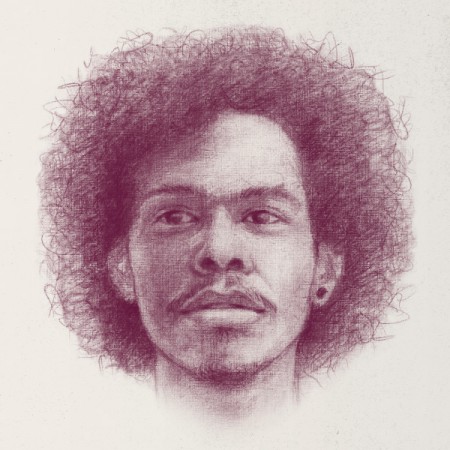 Jeangu Macrooy was born and raised in the tropical warmth of Paramaribo. Musical interest was sparked at a young age, resulting in an enrolment at the conservatory of Suriname. After two years, Jeangu decided to continue his musical career at the other side of the ocean, in the Netherlands. A collaboration with producer Perquisite kicked off and last year Jeangu was signed to Unexpected Records. Before the release of his debut EP, his music was already played by 3FM, and Agents After All embarked as his booking agent. The 'Brave Enough' EP was released on April 7th 2016. Accompanied by an electrifyingly fresh production, his highly personal music is sure to leave its emotional mark on anyone who will hear it.
CREDITS:

All songs written by J. A. U. Macrooy.
All songs produced, recorded, mixed and arranged by Perquisite.
Vocals and guitar by Jeangu Macrooy. Violin by Julia Philippens & Emma van der Schalie. Viola by Adriaan Breunis. Cello by Mascha van Nieuwkerk. Drums on tracks 2, 3, 4 & 5 by Jelle Huiberts. Fender Rhodes on track 5 by Jasper Slijderink. All other instruments and sounds by Perquisite. All songs mastered by Darius van Helfteren. Cover drawing by Jeangu Macrooy. Artwork design by From The Hill.
© & ℗ 2016 Unexpected Records.
www.unexpected-records.com | www.jeangumacrooy.com
All rights reserved. Unauthorized duplication is a violation of applicable laws.
Tracklist
Gold (2:55)

To Love Is To Hurt (3:29)

The Next One (2:55)

Monster (4:17)

Brave Enough (3:42)

Bad Skin (3:22)


A:
1. Gold (2:55)
2. To Love Is To Hurt (3:29)
3. The Next One (2:55)


B:
4. Monster (4:17)
5. Brave Enough (3:42)
6. Bad Skin (3:22)


The USB-card contains, besides the audio in wave and MP3-format, the lyrics of the songs, 3 live-video's, press pictures, a biograpgy and the official credits.

1. Gold (2:55)
2. To Love Is To Hurt (3:29)
3. The Next One (2:55)
4. Monster (4:17)
5. Brave Enough (3:42)
6. Bad Skin (3:22)