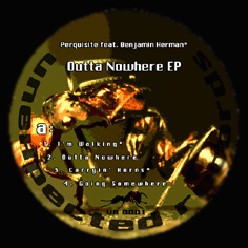 Being the first official release on Unexpected Records, this collaboration of producer/composer Perquisite and Jazz-saxophonist Benjamin Herman is a nice mixture of instrumental Hip Hop and Jazz and became known as a little gem in the movement.
Benjamin Herman, born in London in 1968, began appearing on the professional jazz circuit at the age of thirteen. Since then he has toured with large and small formations around the world. He made several records and in 1991 he won the prestigious Wessel Ilcken Prize. Started in the traditional jazz-scene, Benjamin Herman became very active in the new jazz movement, being the founder and leader of New Cool Collective, wich was awarded an Edison for their repertoire. The Outta Nowhere EP is the result of improvisations Benjamin Herman did on Perquisite's beats.
This release has later been digitally rereleased as 'Outta Nowhere & Double Vision EP' by Perquisite. For info about Perquisite, please go to http://www.perquisite.nl.
Tracklist
A:
1. I'm Walking feat. Benjamin Herman (2:19)
2. Outta Nowhere (2:31)
3. Carryin' Horns feat. Benjamin Herman (3:59)
4. Going Somewhere (2:22)


B:
5. Groovin' On Wax ft. Benjamin Herman (3:56)
6. Another Summer (2:46)
7. Ornithology feat. Benjamin Herman (4:40)