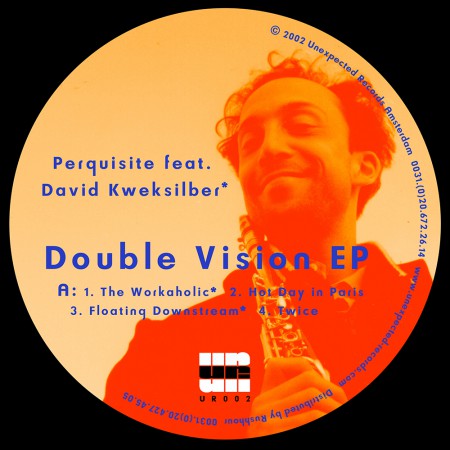 The second release of Perquisite on Unexpected Records is a mix of Nu Jazz, instrumental Hip Hop and uptempo Funk. Featuring jazz-clarinettist David Kweksilber, the Double Vision EP can be seen as the follow-up project to the Outta Nowhere EP which was released in 2001 on Unexpected Records. With this second release Perquisite takes the groovy vibe of the Outta Nowhere EP to another level with a mix of even more up-tempo, twisted and relaxating beats.
David Kweksilber, (Amsterdam, 1973) plays clarinet and saxophone in different musical fields ranging from classical and contemporary music to jazz. In 2000 he was awarded with the Elisabeth Everts Prize and in februari 2002 he debuted with a solo concert at the Concertgebouw Amsterdam. In the classical field he performs as a soloist and with ensembles like the Ebony Band, Schönberg Ensemble and major symphony orchestras. Besides this he plays Jazz, Klezmer, contemporary Improv and funky music with bands like the Transatlantic Jazz Orchestra, the Beau Hunks and the New Cool Collective Big Band.
This release has later been digitally rereleased as 'Outta Nowhere & Double Vision EP' by Perquisite. For info about Perquisite, please go to http://www.perquisite.nl.
Tracklist
A:
1. The Workaholic feat. David Kweksilber (2:05)
2. Hot Day In Paris (2:36)
3. Floating Downstream feat. David Kweksilber (3:33)
4. Twice (3:37)


B:
5. Takin' Over feat. David Kweksilber (3:49)
6. Reminisce (3:20)
7. After The Rain feat. David Kweksilber (4:10)